BRIAN WARD
HEAD GOLF PROFESSIONAL
Brian was born and raised in Stillwater, Oklahoma. He played collegiate golf for Division II Northeastern State University in Tahlequah, Oklahoma.  Upon completion of his bachelor's degree in Business Administration, he moved to Wichita to begin his career as a golf professional.
Brian was an assistant golf professional at Wichita Country Club from 2006-2013.  He earned his PGA Class A membership in 2010.  In 2013 he took over the Head Golf Professional role at Brookridge Golf and Fitness in Overland Park, Kansas.  In 2015 he returned to Wichita and took over the Director of Golf role at Crestview Country Club.  Throughout his career, Brian has been actively involved in the PGA South Central Section including, serving on the awards committee, serving as Kansas Chapter President, and serving on the section board.
Brian and, his wife, Christina were married in 2011.  They have a daughter, Rebecca, who was born in 2017. 
GARRYL DARKIS
ASSISTANT GOLF PROFESSIONAL
Garryl Darkis grew up in Parsons, Kansas, where he played 4 years of high school golf. After high school, he continued his career at Independence Community College. In his second year there, he aided his team in winning Regionals which earned them a trip to Scottsboro, AL for the KJCCC National Championship. Garryl first entered into the golf business working at Arthur B. Sim Golf Course in Wichita, Kansas where he was involved in the Jr. Golf program during the summers. Garryl plans on pursuing a Class A PGA Membership. 
CONNOR MICKENS
ASSISTANT GOLF PROFESSIONAL
Connor is originally from Meriden, Kansas, and earned a Bachelor's degree in Business Administration while playing golf for Bethel College in North Newton. He also received a minor in Sports Management and a Coaching Certificate in his time at Bethel. A devoted Kansas State Wildcat fan; Connor lists working out, playing golf with family and friends, and watching sports as hobbies. Connor is responsible for assistant professional duties in the golf shop such as tournament administration, giving lessons, and merchandising.
CURTIS SCHRIEVER
COURSE SUPERINTENDENT
Curtis was born and raised in South Central Kansas, attended Kansas State University, and earned a bachelor's degree in Golf Course Management. Curtis has compiled 14 years of golf course experience in 4 different states, spanning the country from the mountains of the west to the east coast. He is married with a son and a daughter.
KAREN RONEY
ADMINISTRATIVE ASSISTANT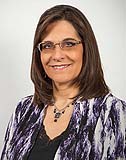 Karen graduated from Kansas State University with a Bachelor's Degree in Family Life and Human Development/Community Service. She and her family moved to Andover in 2001 from Topeka.  Prior to her 2007 start with Terradyne Country Club, she was a receptionist and license coordinator with an insurance agency in Wichita.
Her husband, Rex, is the Credit Manager at Spirit AeroSystems and an avid runner. They have 5 children all of whom were homeschooled in their younger years.  Her oldest daughter, Alesha, currently lives in Washington where her husband is stationed after serving two tours in Iraq and one in Afghanistan. The eldest son, Brant, graduated from KSU with a Master's in Industrial Engineering and is employed in KC.  Carli, a graduate of WSU School of Nursing, is a pediatric nurse.  Denna currently attends Friends University, and Evan is a student at Andover High School.
316-733-2582 ext. 200
LEAH DOSHIER
DIRECTOR OF MEMBERSHIP AND OPERATIONS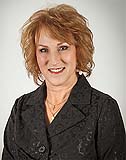 Leah attended Andover schools and studied business at Wichita State University and Baker University.  She has dabbled in the restaurant business, banking, and commercial photography, but for over 30 years she worked in the retail clothing industry. With many years of experience in management, buying and sales, she is very excited to begin a new career in the golf and private country club industry.  Leah feels blessed to have built many wonderful friendships with her clients over the years and now she can continue to cultivate some of those as members of Terradyne!  She met her husband Rob while playing co-ed softball together, and the two have been married 30 years. They have two grown children, a daughter Lauren who is a Barber and makeup artist, and a son Zach who is a K-State grad and works in sales–go Wildcats!  In her leisure time, Leah likes to explore places rich with history, antique shops, is an avid reader, and likes to bake, and work in the garden.  But most of all, she loves to spend time with her family.
316-733-2582 ext. 209
WHITNEY ETCHEVERRY
EVENTS COORDINATOR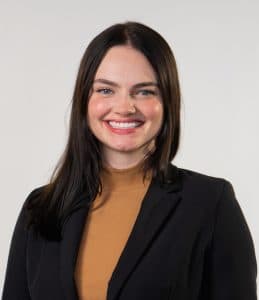 Whitney was born and raised in Spearville, Kansas, a small town near Dodge City. She went to Dodge City Community College where she played college softball then transferred to Fort Hays State University and graduated with a bachelor's degree in Tourism and Hospitality Management along with a certificate in leadership. Whitney worked previously at a holistic pain management facility and at a resort in Wisconsin as an F&B Supervisor Intern. In her free time, she loves to stay active by working out, being outdoors, and traveling. Her father and mother, Ken and Billie live in Spearville, along with her two younger siblings, Tanner and Stephanie. Her other sister, Brianna is currently attending Fort Hays State University. We are thrilled to have Whitney on our team at Terradyne Country Club!
316-733-2582 ext. 203
whitney@terradynecountryclub.com
ANGIE PENNINGTON
CONTROLLER AND BUSINESS MANAGER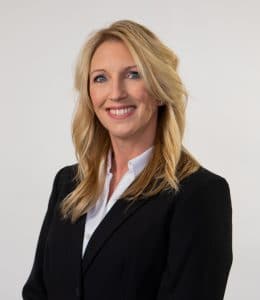 Angie Pennington came on board as the Controller at Terradyne in December 2019. Then in August 2020, the role of Business Manager was added to her responsibilities. She feels lucky to be part of such a great country club and to have the opportunity to work alongside such an amazing team. Angie was born and raised in Wichita, Kansas, attended West High School, and graduated from Friends University with a Bachelor's in Business & Accounting, with a minor in Human Resources. She is married to Scot Pennington and they have 3 kids, two of which serve in the United States Air Force, while their daughter is pre-med at the University of Arkansas. In her free time, you can find her traveling and showing her reining horses competitively.
ERIN MCRAE
FOOD AND BEVERAGE MANAGER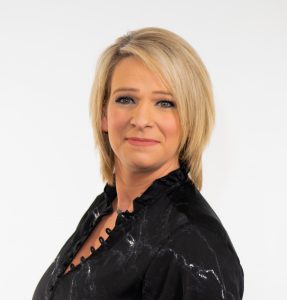 Erin McRae grew up in Andover, Kansas where she graduated from Andover High School. She studied Business Administration at Wichita State University. Erin worked at Redrock Canyon Grill for 13 years and has helped open multiple restaurants. She was the proprietor at Greystone Steak and Seafood and transitioned to Director of Operations for A&M Management. She worked for A&M Management for 5 years before joining us at Terradyne In her free time, she likes to attend concerts, watch the Kansas City Chiefs, drink wine, and hang out with her daughter. She lives in Andover with her daughter, Emrie, and 3 dogs.
316-425-1999
STAFF LIST
TERRADYNE COUNTRY CLUB STAFF MEMBERS